Hey y'all!
Tomorrow morning, I get on a big plane and head off on a big adventure, boldly going where no man has gone before. That isn't true. Many a man has gone on an adventure. Namely, Martin Freeman.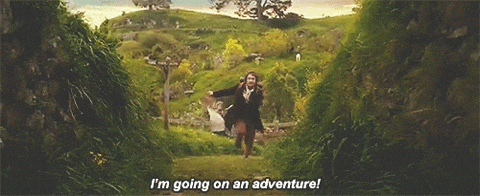 I'm super excited because this is the first time I've gone on a Big Mission Trip. Me and seven other people are headed off to India and I could not be more thrilled. What's even more exciting is that it isn't just a "hi hello kids vbs and helping with medical treatments and also HEY JESUS" mission trip. (although there is nothing wrong with those! those are fantastic!)
Our aim for this trip is for pastors and their wives to come and learn about the spiritual reality we live in, how God speaks to us individually, and how spiritual healing works in smaller settings.
When the leader said that he wanted me and my brother to be joining my parents on the trip, I was initially really nervous. What could a sixteen-year-old white girl from East Tennessee possibly have to offer in a large setting with all adults and most of them being pastors and well-educated people?
Answer? Nothing. This girl over here can only talk about what she's experienced and let God do the rest. That right there is what the team leader wanted, which is why he asked. What's a better way to show how everyone can hear the voice of God than by having teenagers come and discuss it? If teenagers can do it, so can you.
One of the parts of this trip I've been really looking forward to is just sharing how I've seen the Lord move in my life. I could talk all day long about that. I don't know what I'm doing when I get there, heck, I don't even know when my flights leave. I know I'm getting on a plane and following directions from there. But what I do know is that my God is the God of provision. What I need, I will get in the exact moment I need it. I don't need to worry about translators, I don't need to worry about anything.
So yeah! That's what's happening this week! Prayers would be greatly appreciated, for both safe travel and God's words on our tongues.
Also, I felt really compelled to add this at the end here, the worship intern at our church introduced me to this song a few weeks ago and it pierced my soul. It's been on my heart since then. Hoo boy, the chills hit at the bridge, even though I get chills from the entire thing. I just love this song, especially since the trip has been on my mind a lot.
Talk about a song that takes your breath away. Wow.
Also, I thought I'd include this here, Elizabeth and I have been doing Fragment February on our band channel and yesterday I posted this one. I really like it.
Anyways, I'm just rambling now. I won't be posting on the next Tuesday because hi, India, but I will be posting again the week after that. 🙂 See y'all then!
So go forth, mis amigos and amigas, and smile. Your day is just beginning. Make the best of it. Don't procrastinate. Work hard. Make me proud. 🙂
Love you all,
Madeleine ❤