Hey y'all!
*BLOWS PARTY HORN*
HAPPY BIRTHDAY TO YOU
HAPPY BIRTHDAY TO YOU
HAPPY BIRTHDAY DEAR BLOGGY
HAAAAAAAAAAAAAAAAAAAAAAPPY BIIIIIIIIIIIIIRTHDAAAAAAY TOOOOOOOOOOOOOOOOOOOOOOOOOOOOOOO YOUUUUUUUUUUUUUUUUUUUUUUUUU!!!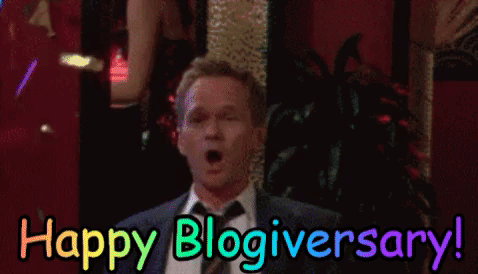 Now that we have my obnoxious singing to my website out of the way, we may proceed XD
It's hard to believe that I have been around the blogisphere for a year now. (wow I feel old) It barely seems like any time has passed, but when I look at all the things I have learned in the process, I know that it truly has been a year. (haha I have learned lessons, y'all.)
So today we are going to do a little walkthrough of both the lessons I've learned and tips I have picked up along the way. Maybe some of these will help you in your own bloggy journey! 😉 ❤
Schedule, schedule, schedule! — Being the little idiot that I am, I didn't realize this was an option until about a month into the venture. You can schedule posts so you don't have to manually do it, past Madeleine. It is sooooo much better. It's a little scary to me now, thinking I had to go on and post it immediately when I didn't know how to do the things. That, luckily, was back when I was fully homeschooled so I didn't have to worry about missing the date or time. That would not have worked so well now. *wipes brow* Thank goodness for scheduling funtions!!! XD
Be yourself! — Ugh, that sounds like a sappy motivational poster. (it probably had like a cat with sparkles on it or something like that *rolls eyes*) It is a true principal, though. Here's a thought: why do we like honesty so much? Because, even if we don't know the person, we feel like we really do. When you are open and realistic with your writing, it connects people and makes them feel welcome. I try to do this and so far, I think I'm doing fairly well! 🙂 This one kinda melts into the next one…
Interact with viewers — Imagine you're at a party. I don't care if you are a party person or if you would rather die than go to a party raises hand, because we have all been to at least one. Imagine everyone is talking to the host, but when you go to talk to the host, they just kinda ignore you. How would that make you feel? Pretty awful, I'm guessing. No one wants their blog to be like that. Everyone is welcome to the party and I promise I will say hi!! Exchange your thoughts, leave little encouragements for others, fangirl, do what y'all need to do! 🙂 I love it all!
Push into the unknown — Try. new. things. I have found this to be very true. You don't know if you have a favorite topic or blog post type to do if you haven't tried bunches!! Who knows, maybe you really like posting poems, or maybe you enjoy sharing motivation tips! You don't know until you try!
Make blog friends! — The blogisphere is such a wide place filled with millions of brilliantly beautiful people! The more friends you have online, the more options you have for each other! This way, guest posting is easier and more friendly! A couple (but there are TONS more) of my favorite bloggers are Abigail, Penny, Anita, and Audrey Caylin. Go check 'em out because they are fantastic. 🙂
---
Hi! Here is the second installment of tdop! This week has been pretty good!
6. blogiversary
7. Jordan's Messyges
8. Teachers who care about you and your well being
9. Prayer sessions at your "big sister" friend's house
10. My brothers of the Fuel worship band
11. Reading Mistborn by Brandon Sanderson in complete silence after finishing testing
---
Well, I hope your last week before SPRING BREAK(!!!!) is fantastic and that everything goes smoothly for y'all! Keep an eye on The Rebelution tomorrow! 😉 *subtle winking*
Now go forth, mis amigos and amigas, and smile. Your day is just beginning. Make the best of it. Don't procrastinate. Work hard. Make me proud. 🙂
Love you all,
Madeleine